I received this in my email and I figure it's worth passing on for anyone single who fits the bill. Sorry I posted this past the early bird date. It's for this upcoming weekend, so hurry up and apply!
ATTENTION SINGLES 25-38
A Great Shabbaton August 19-21, 2011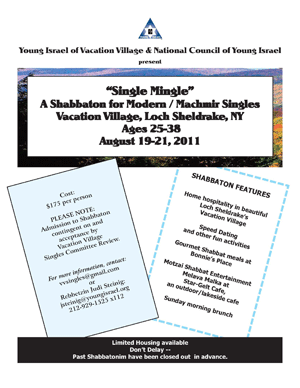 Young Israel of Vacation Village & National Council of Young Israel present

"Single Mingle" A Shabbaton for Modern/Machmir Orthodox Singles

Vacation Village, Loch Sheldrake, NY Ages 25-38; Early Bird Special: $175 per person (by August 10); $195 (after August 10)
PLEASE NOTE: Admission to Shabbaton contingent on acceptance by Vacation Village Singles Committee Review.
For more information, contact:
vvsingles@gmail.com

or Rebbetzin Judi Steinig:
jsteinig@youngisrael.org
212-929-1525 x112 or fax 212-727-9526
Shabbaton Features Home hospitality in beautiful Loch Sheldrake's Vacation Village
Speed Dating and other fun activities

Gourmet Shabbat meals at Bonnie's Place

Motzai Shabbat Entertainment

Melava Malka at Star-Gelt Cafe, an outdoor/lakeside cafe

Sunday morning brunch
Limited Housing available
Don't Delay -- Past Shabbatonim have been closed out in advance.

FOR MORE INFORMATION AND AN APPLICATION PLEASE CLICK HERE